University of West Virginia Bridgeport Freshman Takes Summer Research Opportunity | New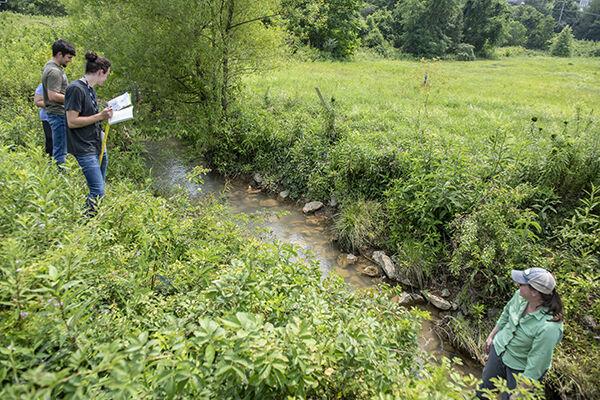 BRIDGEPORT, Va. (WV News) – As he begins his first year at the University of West Virginia, Easton Cahill, from Bridgeport, prepared for his first semester by engaging in academic research.
In July, Cahill was one of 15 students who were part of the summer immersion experience with support from the First2 network, the program offering internships specifically for first-generation and under-represented freshmen. rural areas.
Cahill compared the water quality results of streams, such as a stream in the West Run watershed. Each day of the two-week experiment included a trip to a site, with lessons on estimating flow before lab work as part of land use impacts on water quality with Jason Hubbart, professor and director of the Institute of Water Security and Science in the Davis College of Agriculture, Natural Resources and Design, and Kaylyn Gootman, post-doctoral research associate.
"It's tough being the first in your family to go to college because you don't have the next level that some might have, but working with First2 really gave me that introduction," Cahill said. He has already met science, technology, engineering or math students from Charleston, Weirton and other parts of the state.
Cahill, a biology student, also hopes the First2 network will help him clarify his goals. He also enjoyed biology classes and outings at Bridgeport High School.
Jordan Means, a junior at WVU majoring in Immunology and Medical Microbiology at Elkview, began her college career with the summer immersion experience in 2019 shortly after graduating from Capital High School.
"I was a first generation student and had no idea what college was like. I was very scared to come to college, but after First2 I felt like I had a support system around me to help me succeed today, "said Means, one of the four student mentors. "Now that I understand, I want to make sure I pass the ladder to the other students to help them through the process.
"I think (the experience of this summer) went very well. We gave the students the opportunity to see what it looked like in different research labs and now they also feel more connected with the people around the campus, "she said.
Means, who aspires to attend medical school, was eager to see Cahill again at his research club meetings.
After Means helped with a fully virtual immersion experience in 2020 due to COVID-19, this year's summer research projects involved hands-on teaching.
"You can read something, but actually that's how I like to learn," Gootman said. "They have to put on their boots, go out into the field and collect the data that will tell this story."
Other research projects include studies in neuroscience with Sadie Bergeron from the Department of Biology, Metal Catalyzed Coupling Reactions with Jessica Hoover from the Department of Chemistry C. Eugene Bennett and Biometrics under the supervision of Jeremy Dawson from the Department. Computer and Electrical Engineering Lane.
"For some students, the college environment is unfamiliar and scary. Giving them the chance to live college life without being graded or assessed helps them overcome their fears and prepares them for success from day one, "said Michelle Richards-Babb, director of the Office of Undergraduate Research.
"We expect them to become familiar with the university environment, know its resources and feel comfortable speaking with faculty and staff. In addition, they will have built a cohort of like-minded students who are interested in STEM, intend to succeed in college, and facilitate and celebrate each other's successes.
Cahill's mother, Lisa Ross, was happy that her son had been accepted into the immersion experience. The freelance photographer learned mostly online, as well as observing those at Fairmont and Bridgeport.
Ross was originally enrolled at Fairmont State University, but never attended due to his work schedule. She attended trade schools to work in a dental office and as an orthodontic laboratory technician.
"I knew I wanted Easton to go to college since I didn't. There were a lot of opportunities in life where I could have made more money if I had had it, "said Ross. "He probably doesn't remember it, but when Easton was little I used to say to him, 'You're going to go to school and you'll be so smart.'
"He has always been very studious and very independent. Easton is very articulate, intelligent in biology and math, and is a reader – we are very proud of him.
Cahill said he was already interested in applying to graduate programs after earning his undergraduate degree.
Cahill also has two elementary-age half-siblings and the family already hope to visit Easton as often as possible.
The First2 network, with funding from the National Science Foundation, started as a pilot project in 2016 to tackle the success of STEM students, as data at the time showed that only about 30% of high school graduates who had reported STEM majors in college had graduated. with STEM degrees.