Pecan Street-FM 685 intersection improvements to enter new construction phase, traffic patterns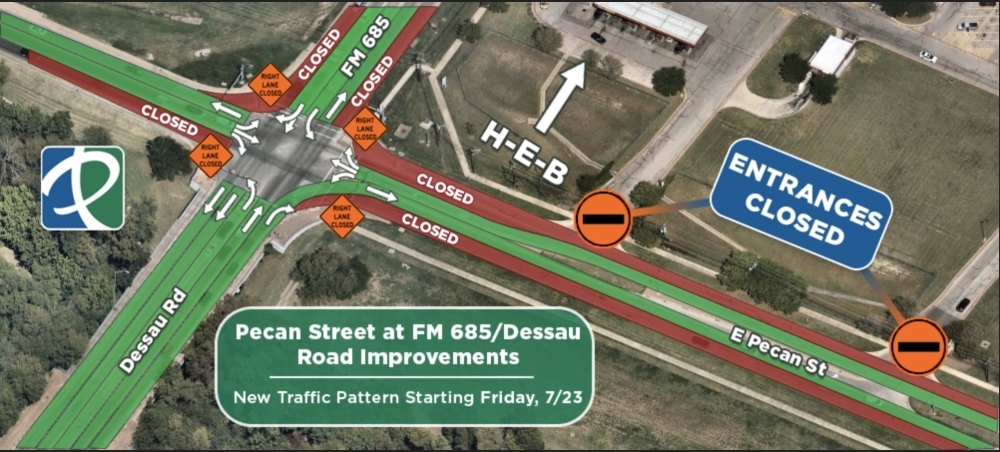 The improvements underway at the intersection of rue Pecan and FM 685 will be the subject of a new construction phase as of July 23. (Image courtesy of the Town of Pflugerville)
The improvements underway at the intersection of rue Pecan and FM 685 will be the subject of a new construction phase as of July 23.
This phase will result in further changes in traffic patterns, according to information from the town of Pflugerville.
Among the changes at this intersection, traffic will be reduced to one lane in each direction on Pecan, and access to the HEB Mall will be limited to the FM 685 and Old Austin-Hutto Road entrances only.
Motorists may also turn left from Pecan westbound on Dessau Road.
The Pecan at FM 685 project is underway through a partnership between the City of Pflugerville, the US Department of Commerce, the Texas Department of Transportation and the Pflugerville Community Development Corp.
The total cost of improving the intersection is $ 4.3 million, including $ 2.3 million from a grant from the US Department of Commerce. Information from the city indicates that the remainder of the funding comes from TxDOT, PCDC and the City of Pflugerville via bond certificates and its general fund.
Information from the city does not specify when the new traffic patterns and construction phase will end, but the entire project is expected to be completed in December, depending on weather conditions.