McCarthy Prize winners head to medical and dental schools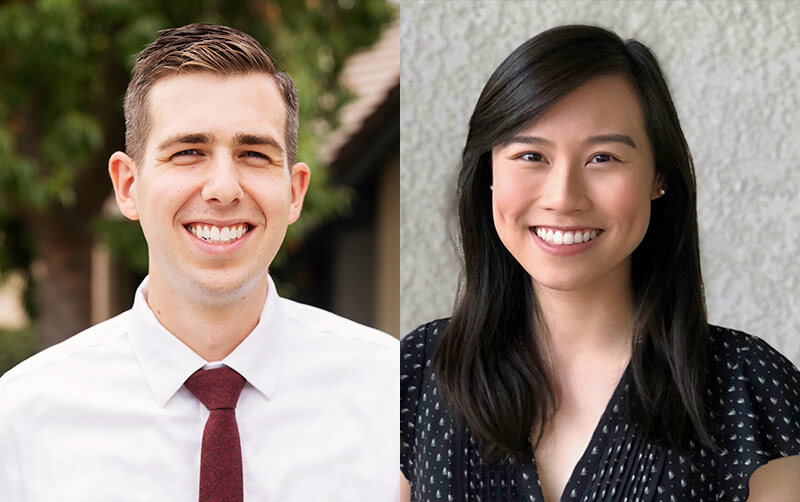 While Matthew Cosaert will attend Loma Linda University School of Dentistry this fall, Kristy Nguyen will pursue a dual medical / master's degree program at Ohio State University College of Medicine in fall 2022.
The two Cal State Fullerton alumni are recipients of the 2021 Miles D. McCarthy Health Professions Award, an academic honor recognizing high academic achievement, integrity and a commitment to serve humanity. It is named after the founding faculty member of the Department of Biological Sciences who initiated the Health Professions Counseling Program over 50 years ago.
Nguyen, who graduated in 2019 with a bachelor's degree in biological sciences and a concentration in cell and developmental biology, has since worked as a research assistant for the United States Department of Agriculture and as a medical assistant.
She says her undergraduate experiences at Cal State Fullerton helped her gain acceptance into medical school, in an effort to better understand health disparities.
"The Department of Biology provides its students with a high quality education as well as a multitude of opportunities to succeed in various career paths," she said. "I have come to deeply appreciate the in-depth, student-centered education that CSU is known to offer, and I have always felt supported and positively challenged by my teachers. "
In the research lab of Veronica Jimenez Ortiz, associate professor of biological sciences, Nguyen studied potential drug therapies for parasites such as Trypanosoma cruzi, which causes an infection called Chagas disease. The disease, spread by insects called triatomines or "kissing bugs", originated in Latin America but has since made its way to the United States and Europe.
"My experience as a research assistant in Dr. Jimenez's parasitology lab has cultivated my analytical, decision-making, and problem-solving skills, all of which are necessary to be successful as a scientist," explained Nguyen. "However, the most important lesson I learned from scientific research was that of resilience and confidence. Through years of trial and error, I have learned to adapt and persist, as well as to believe in myself and my abilities to perform experiments well or to grow by learning to do so.
Outside of the lab, Nguyen was part of the President's Scholars and Bold Scholars programs and was a peer advisor for the RAISE (Regional Alliance in STEM Education) project and mentor of the Rebound project – experiences that allowed her to develop a deep passion for social equity.
For Matthew Cosaert, a post-baccalaureate pre-health student looking to change focus from his original field of theology to dentistry, Cal State Fullerton's outreach and international programs provided the solution.
"I was drawn to the program because it allowed me to complete all of my prerequisite courses in dental school in less than two years and it has a high acceptance rate of the program at dental schools," Cosaert said. . "I also learned about the advisability of counseling through the Health Professions Consulting Bureau. "
Coming from a small undergraduate program, Cosaert said he was concerned that CSUF faculty might not be as accessible.
"On the contrary, I found their office hours to be very helpful and they found time to email or schedule extra time if needed," he said. "I appreciated each of my teachers and felt they were very willing to connect with the students one on one to help us be successful."
After completing his dental education, Cosaert will serve in the US Navy under the Health Professions Scholarship Program. From there, he looks forward to serving his local community with dental care.