Britt Baker Talks AEW Owen Hart Foundation Tournament and Filming 'Carpool Karaoke'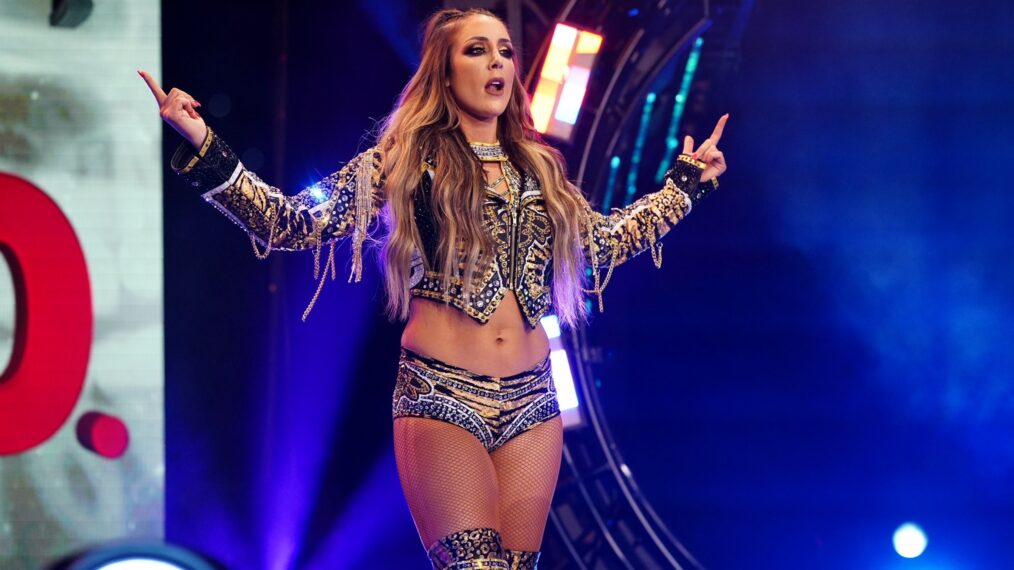 Britt Baker is proud to be the first in All Elite Wrestling. She was the first signed by the company when it launched in 2019. She was part of the first female main event on AEW dynamite and Carnage shows. Not to mention those pioneering lights and cage matches against Thunder Rosa.
Baker, also a legitimate dentist, aims for one more by winning the first Owen Hart Foundation tournament. Ms. DMD is set to face off against Toni Storm on the May 25 episode of dynamite. Whoever raises their hand in victory goes to the final double or nothing pay-per-view on Sunday. Before a few big days (including a ride on Carpool Karaoke), the good doctor made time for us between body slams and teeth cleanings.
How has it been having boyfriend and fellow AEW star Adam Cole on the same travel schedule for the most part now? Disadvantages ?
Britt Baker: The travel program alone is fabulous. Although for the day of the show, not much has changed. We don't really see each other because we're both so busy doing our own things. We are still very much ourselves, which I like. I think he would probably tell you that his biggest downside is that our flight home on Thursday is at five in the morning, so I can get to the dental office. I don't think he likes it. Other than that, it's been pretty awesome.
You recently did rescue bar whole. How was this experience?
Adam was thrilled that we were able to do this. It was really simple. You go to the restaurant and you tell them exactly what you're doing and you know where the cameras are while they're coming our way. The bartenders had no idea we were for recognition. I thought for sure that we were dead gifts. We didn't even get our menus for 10 minutes sitting there. They had no idea who we are because if they did they would kiss our ass. This was not the case.
Any thought about doing a reality show in general? A professional wrestling dentist teamed up with another wrestler – writes himself.
There has been interest on more than one occasion. It's definitely something I've warmed to. At first I felt like I was too busy and most of all I always thought my life was way too boring for something like this. For me, being a wrestler and a dentist is just my life. If it's content that can be entertaining for others, I would definitely be open to it.
With all the talent that has entered the fold, what do you think of the current state of affairs with the AEW Women's Division today? Is there more work to do?
I think there is always work to be done in every division and every company in the world. You can never settle. This is where it gets dangerous. We have so many talented women right now. Everyone has their time. When it's time to shine, there's nothing in this world that can dim that light. Sometimes you're at the top and other times you're a little lower when it comes to TV time. It's everything in life, not just the struggle. I think we are in a good situation right now. There is always room to grow, but we will continue to grow.
How do you think the Owen Hart Foundation Tournament ups the ante?
I think it's super exciting. You see those tournament matchups that you wouldn't otherwise see or that would take months of story to build. It was truly a treat for the fans to have these matches on free-to-air television. You just had Adam Cole versus Jeff Hardy. How awesome is that? Whenever there is something up for grabs, like a tournament, the fans get excited and invested. It's exciting to find someone to rally behind. I like any type of tournament.
Any thoughts on your opponent Toni Storm and how she decided to bet on herself after WWE? Do you find any similarities in his background?
Toni was able to do everything I wanted to do but couldn't because I was in dental school. She must travel the world. She became champion in all other countries. She lived in Japan. That being said, I think Toni and I have a very similar mindset in that we know our worth. We will do anything and everything to show it. She can adapt to any style of wrestling. She has fought against some of the best in the world and beaten them many times. I have my work already prepared for me. I think it's a match that really excites the fans.
Another pretty exciting thing is seeing your friend Deonna Purrazzo on AEW TV in the main event. What was it like having her there?
It got to the point at the end of the night where I was backstage and said, 'No, I don't want you to go. I want you to come back here next week too! Deonna truly deserves a big stage and a crowd of thousands chanting her name because she is so talented. She has proven time and time again that she is one of the best in the world. Her WWE career didn't quite pan out, but right now she's arguably one of the biggest stars in women's wrestling. It's pretty cool that she could do that. As for having a match, it's not for us to decide. Hopefully sooner or later.
What can you tease about your "Carpool Karaoke" episode? Lots of company with CM Punk, Bryan Danielson and Christian Cage.
It was really fun. I had to pinch myself for a second because these are all guys I was a huge fan of watching. The musical choices are omnipresent. I don't know if they all made the cut, but we had a lot of fun with the choices. We actually got out of the car and went on a hawker pub crawl. I will tell you that the pedaling is difficult. I was sweating putting all my effort into this thing to get there. I was tired and it was cold. It was shot in the middle of winter. It was something else.
Are you a shower singer or a car singer?
I'm more of a car singer. I like to have peace and relaxation in the shower. It's time for me. Nobody singing. By car, it's a different story. I get stuck in the car.
What's on your playlist on the road?
I'm everywhere. I love 80s rock. Reine, Bon Jovi, Voyage. A Kelly machine gun. I have Olivia Rodrigo right now. Old school Eminem. I love everything.
Who in the karaoke car had the best singing voice?
I would say me. The boys were a little tough.
AEW DynamiteWednesdays, 8/7c, TBS
AEW Double or NothingMay 29, 8/7c, Pay-Per-View and FITE TV